产品展示
索尼Felica USB NFC Reader RC-S360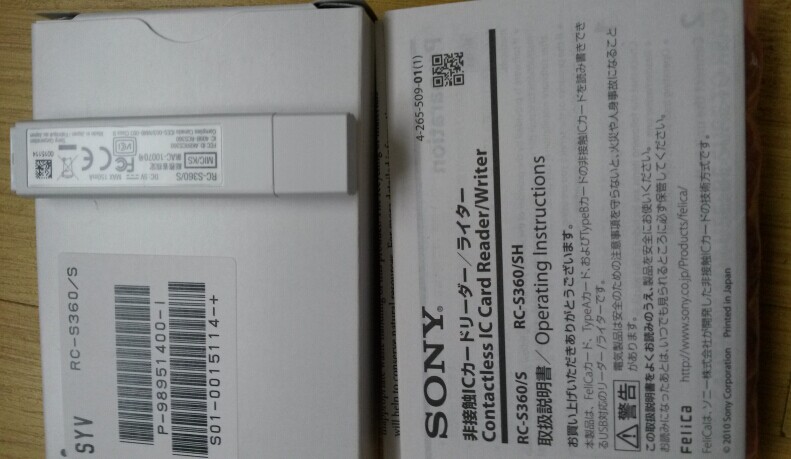 USB NFC Reader
RC-S360/S
RC-S360/SH
Low cost

Compact Size

NFC compatible
"RC-S360" is a compact NFC reader for FeliCaTM and ISO/IEC 14443 Type A / Type B contactless IC cards, with USB interface.
S-type and SH-type USB readers are available, SH-type has clip attachment to hold the card to the reader during data communication.
Features
Product Specifications
Operational Environment
Features
Create your packaged solution
The products are targeted to service providers who want to offer a package solution with card or other device with contactless communication / NFC capability.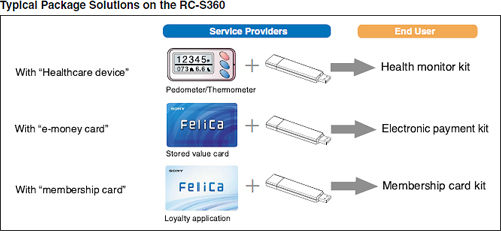 Compact and stylish
"RC-S360" is a stylish and compact reader device which isonly about 20 millimeterswide, so it is easy tocarry around together with your laptop PC."RC-S360/SH" comes withaclip, which can hold the card to the reader.

NFC (Near Field Communication) function*1
The reader has a read/write function for ISO/IEC 14443 type A / Type B cards, as well as FeliCa NFC Forum Type 3 Tag including NFC Dynamic Tag (FeliCa Plug).
*1 Application and system must be provided by the customer.
Product Specifications
RC-S360/S
RC-S360/SH
External appearance
Regulation requirements
[USA] FCC ID: AK8RCS360
[Canada] IC Certification No.: 409B-RCS360
[Europe] CE R&TTE (1999/5/EC)
[Japan] RC-S360/S: Type Certification No.: AC-10070(Radio Law)
RC-S360/SH : Type Certification No.: AC-10071(Radio Law)
Communication distance
(per card and device)*1
3mm
Communication method
Compliant with ISO/IEC 18092 (212kbps / 424kbps Passive communication mode)
Compliant with ISO/IEC 14443 (TypeA / TypeB)
Communication speed
(per card and device)
106kbps*2, 212kbps, 424kbps*3
Carrier frequency
(per card and device)
13.56MHz(±50ppm)
Operating temperature/humidity
(non condensation)
5°C~35°C/10%~90%RH
Storage temperature/humidity
(non condensation)
-20°C~+ 60°C/10%~80%RH
Dimensions (W×H×D) during use
90.5mm×8.4mm×17.9mm
91.3mm×11.1mm×20.4mm
Dimensions (W×H×D) during storage
78.7mm×8.4mm×17.9mm
79.5mm×11.1mm×20.4mm
Mass
Approx.8.4g
Approx.11.0g
External interface
USB(full-speed)
Power requirements (during operation)
DC5V(Supplied via USB)
Power consumption (during operation)
Max.150mA
Supplied accessories
Instruction Manual, cap
Instruction Manual, cap with clip (cap clip)
| | |
| --- | --- |
| *1 | Communications distance depends on peripheral environment. Under ideal conditions, this value is not affected by electromagnetic waves or metallic substances. |
| *2 | When using ISO/IEC 14443 Type A / Type B. |
| *3 | Available only when the card or device to be used compatible with the 424kbps transfer mode. |
Before starting operation the customer should always check that contactless IC card operation performance is satisfactory for data transfer distance and RF characteristics.
This product might not operate correctly if there is metal in the desk near the this product that cause failure in data transfer with the card.
Operational Environment
Operating system
Windows 8 / 8.1 32 bit (x86) / 64 bit (x64)
Windows 8 / 8.1 Pro 32 bit (x86) / 64 bit (x64)
Windows 8 / 8.1 Enterprise 32 bit (x86) / 64 bit (x64)
Windows 7 Starter SP1 32 bit(×86)
Windows 7 Home Basic SP1 32 bit(×86) / 64 bit(×64)
Windows 7 Home Premium SP1 32 bit(×86) / 64 bit(×64)
Windows 7 Professional SP1 32 bit(×86) / 64 bit(×64)
Windows 7 Enterprise SP1 32 bit(×86) / 64 bit(×64)
Windows 7 Ultimate SP1 32 bit(×86) / 64 bit(×64)
Windows Vista Home Basic SP2 32 bit(×86) / 64 bit(×64)
Windows Vista Home Premium SP2 32 bit(×86) / 64 bit(×64)
Windows Vista Business SP2 32 bit(×86) / 64 bit(×64)
Windows Vista Enterprise SP2 32 bit(×86) / 64 bit(×64)
Windows Vista Ultimate SP2 32 bit(×86) / 64 bit(×64)
Windows XP Home Edition SP3
Windows XP Professional SP3 32 bit(×86)
Windows XP Media Center Edition 2005(UR2) SP3
Windows 2000 Professional SP4
Web Browser
Internet Explorer 11.0
Internet Explorer 10.0
Internet Explorer 9.0
Internet Explorer 8.0
Internet Explorer 7.0
Internet Explorer 6.0 SP3
| | |
| --- | --- |
| * | Does not support Windows XP Professional 64 bit or Windows XP Tablet PC. |
| ● | When the USB connection is enabled, the driver and relevant software can automatically be downloaded via the Internet. |
| ● | If using a 64-bit OS, this product is usable only with the 32-bit version of Internet Explorer. |
| ● | Successful operation is not guaranteed on all PCs using the recommended operating systems. |
| ● | The performance of this product depends on the specific combination of hardware and software, even if the above mentioned conditions are satisfied. |