News center
Contact us
Add: 19-702,SongQuan Villa,Taibai Road,Luohu,Shenzhen,China
Tel: +86-755-25512007
Fax: +86-755-25512007-2005
Email: sales@conterway.com
Product show
AXIS Q1605-Z H.265 webcam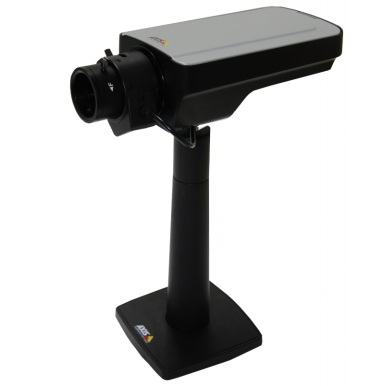 Product Numbers:Q1605-Z
Price:0
Product introduction:AXIS Q1605-Z H.265 webcam
AXIS Q1605-Z H.265 webcam
Excellent image quality and low bandwidth
AXIS q1605-z provides a smooth and very clear HDTV 1080p video at 50/60 frames per second. With its 1/2 "sensor and optimized seeker technology, the camera provides ultra-low illumination imaging performance and low-noise video images in dark environments, reducing motion blur and preserving color information. Zipstream analyzes and optimizes video streams to save bandwidth and storage while maintaining video quality. AXIS q1605-z supports wide dynamic technology as well as seamless switching between light finder and WDR. With the help of CS interface, this camera can support all kinds of lenses. AXIS T91B21 bracket helps to achieve strict cable management.
> HDTV 1080p, up to 50/60 FPS
> 1/2" sensor and seeker technology
> flexible CS interface lens scheme
> supports h. 265
> takes advantage of ansys ZipstreamZipstream Zipstream to save money
> WDR - wide dynamic technology
The camera
Image sensor 1/2 "scans RGB CMOS line by line
Lens zoom lens: 4.4-10mm, F1.2
Horizontal Angle: 96 ° to 43 °
Vertical perspective: 68.7 ° - 32 °
Infrared correction, CS interface lens
Day and night automatic removable infrared filter
Minimum illumination color: 0.02 lux
Black/white: 0.005 lux in the condition of 50 IRE F1.2
The shutter time is 1/125,000 to 1/6s
video
Video compresses h. 264 (mpeg-4 Part 10/AVC) Main and High formats
265 H.
Motion JPEG
HDTV 1080p 25/30 FPS (WDR) : 1920x1080 to 320x240
HDTV 1080p 50/60 FPS (no WDR) : 1920x1080 to
320 x240
Frame rate up to 50/60 FPS (50/60 Hz)
Video streaming provides multiple independently configurable h.264, h.265, and Motion JPEG cells
Type of video stream
Anax Zipstream technology is adopted
Controllable frame speed and bandwidth
VBR/CBR h. 264, h. 265
Multi-view video streams have up to 8 view areas that can be clipped independently
Image set compression, color, brightness, sharpness, contrast, local contrast, white flat
Balance, exposure control, exposure area, WDR - wide dynamic technology: the highest
120 dB (depending on the scene), fine tuning at low illumination, rotation
Turn: 0 ° and 90 °, 180 °, 270 ° (including corridor mode), wen
This and image overlay, privacy mask, image imaging
Translation/tilt/zoom digital PTZ
Uploadable PTZ driver (Pelco D preloaded)
audio
Audio stream bidirectional full duplex
Audio compression AAC LC 8/16/32/48 kHz, g. 711 PCM 8 kHz,
G. 726 ADPCM 8 kHz
Configurable bit rate
Audio input/output external microphone input or line input, line output
network
Secure password protection, IP address filtering, HTTPSa encryption, IEEE 802.1xa
Network access control, digest authentication, user access logs
Supported protocols IPv4/v6, HTTP, HTTPSa, SSL/TLSa, QoS Layer
3 DiffServ, FTP, CIFS/SMB, SMTP, Bonjour,
UPnP ™, SNMP v1 / v2c/v3 (MIB - II), DNS, DynDNS,
NTP, RTSP, RTP, SFTP, TCP, UDP, IGMP,
RTCP, ICMP, DHCP, ARP, SOCKS, SSH
System integration
Application programming
interface
Open API for software integration, including VAPIX ® and
AXIS camera application platform, specifications in www.axis.com
ONVIF ® Profile S and ONVIF ® Profile G, www.onvif.org
The specifications of the
Intelligent analysis AXIS Video Motion Detection 4. Active tamper Detection alarm and sound Detection
Frequency detection
AXIS camera application platform is supported to install third-party applications, please
See www.axis.com/acap
Event trigger analysis, front-end storage events, external input, audio level, scheduled time
Event action file upload: FTP, SFTP, HTTP, HTTPS, network sharing and
E-mail
Notifications: E-mail, HTTP, HTTPS, and TCP
External output activation
Record video to the front end to store and play audio clips
Video buffer before and after alarm
PTZ preset, round trip, overlay text
Day/night switching, state LED activation
WDR mode
Send SNMP traps
Data flow event data
Built-in install help pixel counter
conventional
The shell metal
Top cover: grey RAL 9006
Case: black - NCS S 9000-n
Sustainability without PVC
Memory 512 MB RAM, 256 MB flash memory
Power supply 12V DC/ 24V AC or Ethernet power supply (PoE)
IEEE 802.3af Class 2, Max. 3W
Interface RJ45 10base-t / 100base-tx PoE interface
I/O: 4-pin 2.5mm terminal for two configurable inputs/outputs
12V DC/24VAC power interface
3.5mm microphone/line input, 3.5mm line compound output, support
Video output (audio/video composite output line is required)
RS485/RS422 full duplex interface
Aperture control line interface
Ground screw post
Storage support microSD/microSDHC/microSDXC card
Support for recording to network additional storage (NAS)
See www.axis.com for recommendations on SD CARDS and NAS
Working conditions at 0 ° C to 55 ° C
Humidity 10-85% RH (non-condensing)
Storage conditions and 40 ° C to 65 ° C
Certified inspection report
Dimensions 175 X 77 X 49 mm (length X width X height)
Weight 380 grams,
Includes accessory connector kit, installation guide, Windows decoder single user license
AXIS T91B21 stent
Optional accessory audio - video compound output line
Optional ansons shield and lens