News center
Contact us
Add: 19-702,SongQuan Villa,Taibai Road,Luohu,Shenzhen,China
Tel: +86-755-25512007
Fax: +86-755-25512007-2005
Email: sales@conterway.com
Product show
Max AXIS m1145-l network camera compact and economical 1080p HDTV all-weather camera with OptimizedIR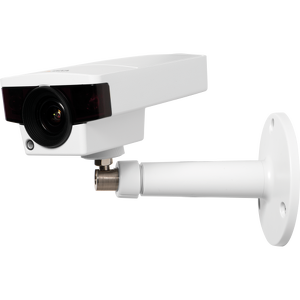 Product Numbers: M1145-L
Price:0
Product introduction:Max AXIS m1145-l network camera compact and economical 1080p HDTV all-weather camera with OptimizedIR
Asx AXIS m1145-l network camera
Compact and economical 1080p HDTV all-weather camera with OptimizedIR
HDTV 1080p/2 megapixel resolution, full frame rate.
All-weather function
Built-in IR LEDs and OptimizedIR
Edge of the storage
H. 264 and M - a JPEG
Easy to install
The I/O support
Precision aperture (p-iris) control
The AXIS m1145-l network camera is a cost-effective compact fixed camera, especially for stores, restaurants, hotels, offices and other locations that require round-the-clock monitoring.
Excellent image quality
AXIS m1145-l has a flat-mounted zoom precision aperture (p-iris) lens that provides an excellent image quality of 30 frames per second at 2 megapixel /HDTV resolution. Precision aperture (p-iris) control provides optimized depth of field, resolution, image contrast, and resolution. The camera is economical, compact and offers multiple h.264 and Motion JPEG streams that can be individually optimized for bandwidth and storage efficiency. The camera supports digital translation/tilt/zoom, allowing streaming of views cropped from a panoramic view for viewing or recording.
Built-in IR LEDs and OptimizedIR
AXIS m1145-l has AXIS OptimizedIR (energy-saving LED technology), which provides adjustable Angle IR lighting and integrates with IR LED precision. The camera can provide automatic lighting in a completely dark scene, an event, or when requested by the user. Infrared LED lighting visible to the human eye is ideal for finding objects as far as 15 meters away.
Reliable monitoring of system edge storage
AXIS m1145-l supports edge storage and can record video directly to storage devices such as microSD/SD/SDHC CARDS, so as to establish a flexible and reliable video monitoring system.
Easy to install
Ethernet power supplies the camera over the network, eliminating the need for cables and reducing installation costs. AXIS m1145-l also provides remote zooming and focusing without manual fine-tuning to ensure the camera's perspective is optimized for the area to be monitored.
The I/O port
Input/output ports can be used to send simple notifications to the alarm panel, or to control relays and similar elements. Input is also desirable, for example when using a PIR sensor.
AXIS mll45-l network camera video segment
Sunimprof Rottaprint