News classification
Contact us
Add: 19-702,SongQuan Villa,Taibai Road,Luohu,Shenzhen,China
Tel: +86-755-25512007
Fax: +86-755-25512007-2005
Email: sales@conterway.com
AXIS Q1785-LE Network Camera 32 x optical zoom integrated gun Network
AXIS Q1785-LE Network Camera 32 x optical zoom integrated gun Network
AXIS Q1785-LE Network Camera 32 x optical zoom integrated gun Network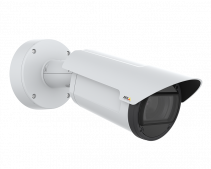 Rugged, high quality 2 MP video, support 32 times optical zoom
Up to 60 FPS for HDTV 1080p
Operating temperature from -40 °C to 60 °C
OptimizedIR with an exposure range of up to 80 m (262 ft)
Electronic image stabilization
AXIS Guard Suite is attached
AXIS q1785-le Network Camera is a rugged, high profile Camera with an excellent 32-fold optical zoom. It 'is an all-in-one camera' ready to tackle any challenge indoors or outdoors.
How far can you go?
Go ahead and place AXIS q1785-le anywhere to capture your target monitoring area. You'll be able to get excellent, high-resolution -- static or fully dynamic -- fragments in bright light, backlight, or no light at all.
This is because AXIS q1785-le has a 32-fold optical zoom, a range of 80 meters (262 feet) of AXIS OptimizedIR and HDTV 1080p at up to 60 FPS. It 'supports Axis Forensic WDR, which provides resolution even when you have both dark and bright areas of a scene, and Axis Lightfinder, which provides high quality -- color -- images when recorded in a dark environment. And Axis Zipstream preserves the capture details you need while reducing bandwidth and storage requirements by 50 percent or more.
Guard nature
Designed to be as effective outdoors as indoors, AXIS q1785-le can withstand temperatures ranging from -40 °C to 60 °C (-40 °F to 140 °F). It has electronic image stabilization function and IK10 impact resistance. It has class IP66, IP67 and NEMA 4X protection against ice, water, corrosion and dust. And even in the case of fog or smoke, its mist removal function can ensure a clear image. In other words, AXIS q1785-le captures both natural objects and humans. And still stand out.
But that's not all...
Want more? AXIS q1785-le continues to provide functionality. It comes with a pre-installed AXIS Motion Guard, AXIS Fence Guard, and AXIS Loitering Guard for active monitoring. It also has additional capabilities for doing other advanced analysis. It supports sound video and has scene profiles, impact detection, corridor mode with automatic rotation and barrel distortion correction for consistently excellent image quality and cost-effective installation. With the I/O port, you can even add additional functionality.
32 x optical zoom is used for reliable identification