News classification
Contact us
Add: 19-702,SongQuan Villa,Taibai Road,Luohu,Shenzhen,China
Tel: +86-755-25512007
Fax: +86-755-25512007-2005
Email: sales@conterway.com
AXIS ExCam XF P1367 explosion-proof gun webcam
AXIS ExCam XF P1367 explosion-proof gun webcam
AXIS ExCam XF P1367 explosion-proof gun webcam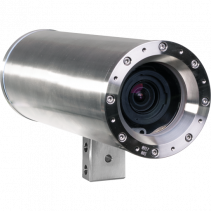 Extremely high light sensitivity in hazardous areas
ATEX, IECEx, EAC Ex, IA certification; Zones 1, 2, 21 and 22; IIC and IIIC group
Use poes for cost-effective installations
316L stainless steel case for extreme conditions
Use the i-cs lens for remote zoom and focus
5 MP resolution, 25/30 FPS
Global hazard certification
Excam XF P1367 offers an attractive price point with a professional webcam housed in a 316L stainless steel case. This enclosure is globally certified (ATEX IECEx EAC) for use in hazardous and explosive applications. In addition, to shorten installation time, the IP camera is equipped with a pre-connected 5-meter (16-foot) unarmored fiber-optic tail cable.
More light or less?
With the i-cs lens, the field of view can be adjusted remotely and the camera automatically sets the focal length. Regardless of lighting conditions, the images are optimized for forensic purposes. The images provided by Excam XF P1367 are optimized for use for forensic purposes regardless of lighting conditions. It provides excellent light sensitivity and light capture technology for high quality color images, even if they are recorded in the dark. And WDR -- when there are both bright and dark areas in a scene, forensics captures image signals that reduce noise and add high-detail images -- for example, at the entrance or near a window, where the sun is bright outside and the light is dim inside.
Clear image.
Low bandwidth.
The Excam XF P1367 provides 5 megapixel resolution at 25/30 FPS in h.264 and Motion JPEG formats, meaning it captures fast-moving objects and people at high resolution image quality. Along with the ACAP analysis, the camera enhances security for people counting in restricted or dangerous areas. In addition, the IP camera USES Zipstream technology to analyze the video stream in real time to identify areas of interest. These areas are compressed a little less than others, preserving important details with complete image quality while reducing storage and bandwidth by 50%. The result is high-quality images and significant savings.