News classification
Contact us
Add: 19-702,SongQuan Villa,Taibai Road,Luohu,Shenzhen,China
Tel: +86-755-25512007
Fax: +86-755-25512007-2005
Email: sales@conterway.com
AXIS M3007-PV 500 pixels panoramic hemisphere network camerase network cameras
AXIS M3007-PV 500 pixels panoramic hemisphere network cameras
AXIS M3007-PV 500 pixels panoramic hemisphere network cameras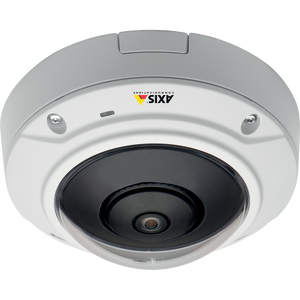 Fixed the mini dome with 360 ° or 180 ° panoramic view
Up to 5 million pixels resolution 360 ° or 180 ° panoramic view
Compact damage prevention, dustproof design
Installed on a wall or ceiling, easy and flexible
Do not break really multi-view video digital PTZ and views
Edge storage, support microSDHC card
The AXIS M3007-PV
360 - or 180 - degree panoramic monitor
Affordable AXIS M3007-PV network camera is a 5 million - pixel stationary hemispherical camera, mini can over an area of 650 square meters (7000 square feet) area provides detailed, high quality 360 ° or 180 ° panoramic view. Can use damage prevention and dust control indoor mini hemispherical camera detects a variety of activities, track traffic and improve the regional management. It is the retailer shops, hotels, schools and offices.
The AXIS M3007-P/-PV video clips
Different views
AXIS M3007-PV provide different view selection: an overview of the 360 ° and dewarped imaging techniques, such as panoramic panoramic view, double and four views. Four view is suitable for the corridor at the crossroads of camera, etc.
Taken as machine also provides the dewarped presented by four independent view area, the user can be digitized in the pan, tilt and zoom to see the area. H. 264 and dynamic JPEG multi-channel video streams can be sent at the same time.
Convenient and flexible to install
The AXIS M3007-PV can be installed on a wall or ceiling. The camera at the time of delivery is complete the focusing, so as to shorten the installation time. It is a 2 meters (6.6 feet) cable, power support Ethernet power supply (IEEE 802.3 af standard), without the power cord and reduces the installation costs.
Intelligent video and video management
AXIS M3007-PV provide video dynamic detection and active failure alarm function. In 360 ° overview mode, the camera also provide substantial support for the installation of intelligent video applications, such as through Ann, and the camera application platforms provide the number of statistics and heat maps, and other functions. In addition, the camera built-in microSDHC card slot enables memory card record in the local save for a few days. When the local store and free AXIS Companion software, users can easily remote viewing and management from each place up to 16 video camera.
The Spa of Bad Steben
The Axis network cameras help to create a safe swimming complex