News classification
Contact us
Add: 19-702,SongQuan Villa,Taibai Road,Luohu,Shenzhen,China
Tel: +86-755-25512007
Fax: +86-755-25512007-2005
Email: sales@conterway.com
AXIS P1357 network cameras
AXIS P1357 network cameras
AXIS P1357 network cameras
With 5 million pixels fixed camera performance outstanding video monitoring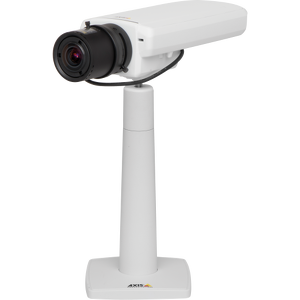 Unparalleled video quality, HDTV and 5 million pixels
Accurate aperture (P - Iris) control
Multiple h. 264 video stream
Digital translation amplification and multi-view video streaming
With 5 million pixels fixed camera performance outstanding video monitoring
AXIS P1357 webcams range is wide, with 5 million pixels or h. 264 and M - JPEG 1080 p HDTV full frame rate can ensure high image detail. In addition to the digital translation after amplification, multi-view video streaming, and through the remote focus, pixel counter the characteristics of the power supply is easy to install, Ethernet and the camera is equipped with precise control aperture lens, day and night to achieve the best image resolution.

In addition, support two-way audio, video dynamic detecting, optional active failure alarm and prevention to local storage of SD/SDHC slot. AXIS P1357 is suitable for airports, Banks, schools and shops ideal choice.

The aperture of the advanced control functions
The innovation of accurate aperture control camera (P - Iris) functions, can automatically and accurately control the position of aperture, optimize the depth of field and camera resolution to achieve the best image resolution. Other support DC drive aperture (DC - iris) lens, to ensure backward compatibility. With its transformation function, day and night, even in low light conditions, still can ensure high image quality.

Multi-view video stream
In order to help reduce bandwidth and storage requirements to the greatest extent, the camera provides digital pan/tilt/zoom and multi-view video stream function, which can make multiple clipping view area and streaming video. Camera support multiple independent configurable h. 264 and M - JPEG format video streaming.

After the remote focus and pixel counter
After manually adjust the camera focus, can use the remote focus function to focus on computer after further fine-tuning. Pixel counter can further help the installer to confirm target pixel resolution of the camera is in accordance with the laws and regulations or customer requirements, such as used for face recognition.
City of Haverhill
City of Haverhill deploys Axis network cameras'll sites and on the an MRAP vehicle to discourage criminal activity.
Sales calls (WeChat):18927492616,QQ:3314094940